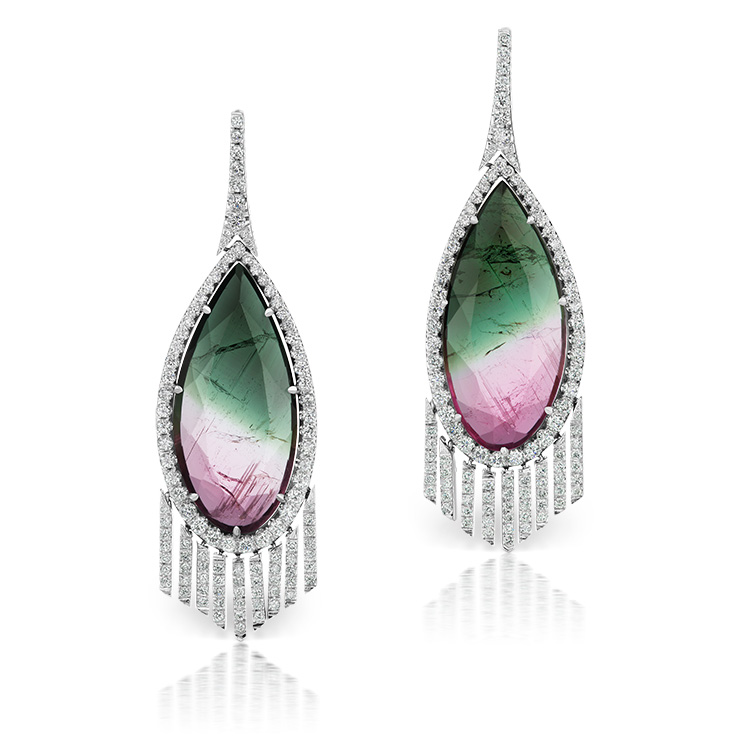 Chevron Fringe Earrings
Deco diamonds dance with rare watermelon tourmalines
The Design
The angles of a matched pair of watermelon tourmalines are echoed in swingy diamond fringe that moves and catches the light. The modern lines of an Art Deco skyscraper are transformed with a touch of fabulous seventies flair. These earrings were honored with the Gem Diva Award at the 2016 American Gem Trade Association Spectrum Awards.
The Inspiration
"I was inspired by seeing 70s inspired fringe on the runways. I wanted to combine that movement with the clean lines of Art Deco." – Alexia Connellan
The Gems
Watermelon tourmaline with two lovely colors of pink and green tourmaline with a slim stripe of white in between is rare enough. Here two fine specimens are perfectly matched, with the same pear shape, angled pattern and fine colors, making them absolutely unique. They were cut from the same piece of natural unheated Brazilian tourmaline rough.
The Craftsmanship
The exquisite bespoke craftsmanship of hand-fabricated platinum with delicately precise diamond pave makes these one-of-a-kind earrings a modern heirloom. The diamonds have azure settings, with extra cut outs that let in more light, for maximum sparkle. The earring backs are specially constructed so that they are not visible from the front but keep the earrings secure on the ear without slipping forward so they are comfortable to wear.
Arrange Your Private Consultation
To appreciate the beauty and quality of couture jewelry, you need to see it, touch it, try it on, and watch the gems dance in the light. Make an appointment for a private consultation to experience Alexia's collection in person. You can find a jewel that speaks to you or commission a custom creation.
How to Commission
a Bespoke Jewel
Would you enjoy a one of a kind jewel inspired by your favorite work of art, natural wonder, or personal journey? Here's how Alexia will make your jewelry dream a reality.
The Inspiration Alexia interviews you to uncover what inspires you and makes you happy. You discuss gems, colors, shapes, and the feeling you want to have when you wear your jewel.
The Gem If you don't already have a personal gem that you'd like to feature in your jewel, Alexia will search the world to find the perfect gem to realize your vision.
The Design Alexia sketches original designs for your jewel, refining the concept and execution until it suits you perfectly.
The Model The sketch then takes shape in three dimensions, either through computer modeling, traditional wax carving, or directly fabricated by hand into metal.
The Setting The final model is then precisely created in precious metal and the gems will be set into the metal by hand, one at a time. The metal is polished to perfection and your jewel is ready for you to wear.