INSPIRED DESIGN
What elevates a jewel from craft to art? Exceptional materials. Refined craftsmanship. And inspiration that comes from beyond jewelry, from the masterworks of architecture, painting, sculpture, and the forms of the natural world.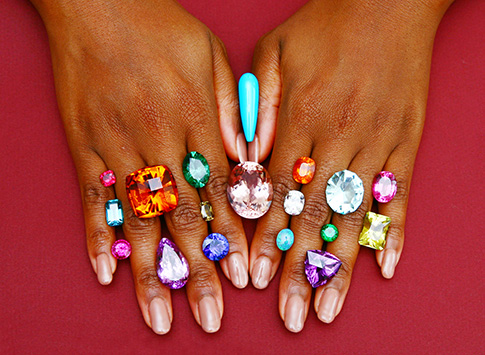 Alexia Connellan draws inspiration from many sources: the helix of Christopher Wren's Dean Staircase in St. Paul's Cathedral, the curved petals of the White Egret Orchid, or the palette of Millet's painting of Ophelia in London's Tate Gallery.
Alexia's creative process always begins with the gem: she searches the globe for special stones with unusually lovely colors. A unique cut, a striking color, and the properties of the gem itself suggest how it would best be highlighted.
"I'm always aiming for the perfect harmony between gem, design, and the woman the jewel is intended for," Alexia explains. "Everything should look and feel natural, and never forced. Like it could be no other way."
Alexia's approach to design has been influenced by artistic mentors. Photographer Thomas Roma challenged her to always reach higher. Painter and sculptor Nicolas Touron taught her to think in three dimensions. Master jeweler Gennady Osmerkin taught her what truly magnificent craftsmanship looks like, feels like, and sounds like. Master jewelry designer Maurice Galli, who designed the new setting for the Hope Diamond, taught her to design from the heart and a place of true love for jewelry and to draw inspiration from the world, not other jewelry, to be truly original.
These influences have combined to allow Alexia to create her own distinctive design voice that can be seen in every piece she creates.
To view Alexia's jewelry gallery and learn more about the inspiration of each singular jewel, click here.
"My soul can find no staircase to Heaven,
unless it be through Earth's loveliness."
Michelangelo