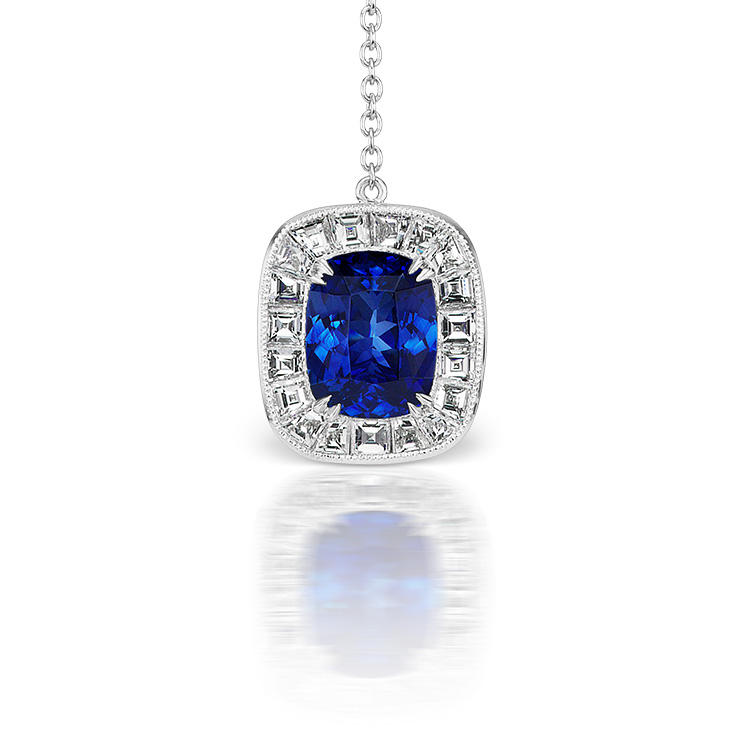 Diane Necklace
This stunning sapphire lariat adjusts to suit every neckline
The Design
A fashionable choker. A sexy lariat. A luxuriously long pendant. This platinum necklace is all of these things and everything in between. Just press a button on the side of the cushion-shaped diamond and adjust the length of the sapphire pendant and create the perfect silhouette for any neckline. Best of all, the versatility of the design means you can wear the stunning sapphire and brilliant diamonds more often.
The Inspiration
"I was inspired by Diane von Furstenberg's iconic wrap dress, which is designed to fit every woman. This necklace adjusts to be the perfect length for you, no matter what you are wearing. Diane famously said 'feel like a woman, wear a dress.' I say 'feel like a woman, wear this necklace!" – Alexia Connellan
The Gems
The centerpiece of this necklace is a fine Ceylon royal blue sapphire from Sri Lanka. It's surrounded by a frame of custom-cut carre diamonds, a vintage cut that is popular in the masterpieces of Art Deco jewelry. A cushion cut diamond catches the light at the center of the Y silhouette for even more brilliance.
The Craftsmanship
This necklace is cleverly constructed so that the mechanism is hidden behind a lovely cushion-cut diamond. Just press a catch on the side and smoothly slide the diamond up and down the chain until the sapphire drop is the perfect length. The necklace was modeled on a computer and then hand-finished in platinum to be a modern heirloom.
Arrange Your Private Consultation
To appreciate the beauty and quality of couture jewelry, you need to see it, touch it, try it on, and watch the gems dance in the light. Make an appointment for a private consultation to experience Alexia's collection in person. You can find a jewel that speaks to you or commission a custom creation.
How to Commission
a Bespoke Jewel
Would you enjoy a one of a kind jewel inspired by your favorite work of art, natural wonder, or personal journey? Here's how Alexia will make your jewelry dream a reality.
The Inspiration Alexia interviews you to uncover what inspires you and makes you happy. You discuss gems, colors, shapes, and the feeling you want to have when you wear your jewel.
The Gem If you don't already have a personal gem that you'd like to feature in your jewel, Alexia will search the world to find the perfect gem to realize your vision.
The Design Alexia sketches original designs for your jewel, refining the concept and execution until it suits you perfectly.
The Model The sketch then takes shape in three dimensions, either through computer modeling, traditional wax carving, or directly fabricated by hand into metal.
The Setting The final model is then precisely created in precious metal and the gems will be set into the metal by hand, one at a time. The metal is polished to perfection and your jewel is ready for you to wear.