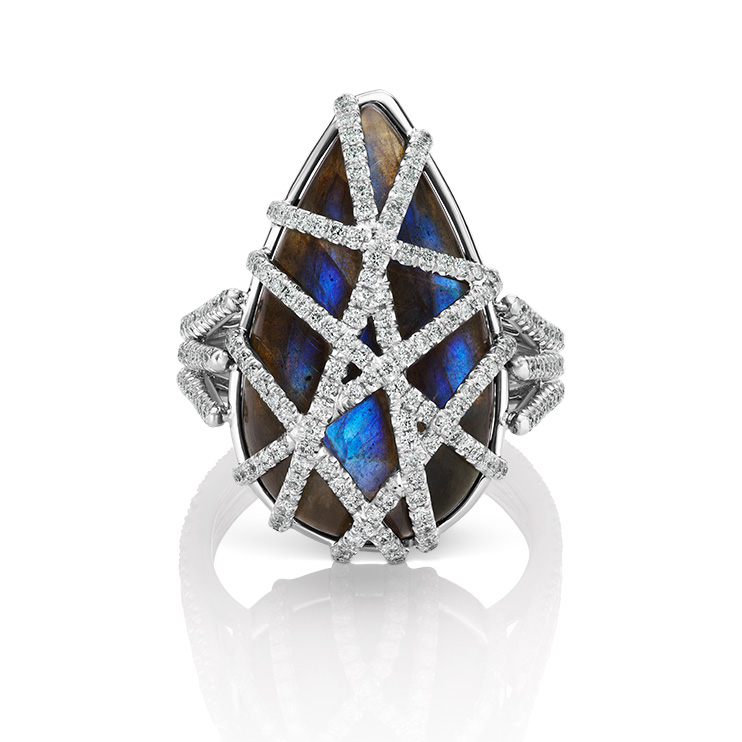 East End Ring
Labradorite flashes through a rhythmic grid of diamonds
The Design
Like Ai Weiwei's iconic Bird's Nest Olympic Stadium in Beijing, the lines of diamonds in this ring have a subtle rhythm and balance. The pear-shaped labradorite cabochon flashes with spectral iridescence, revealing an inner beauty. Dramatic but revealing its secrets slowly, you'll never tire of watching the play of light and shadow across this ring's pattern. The pattern on the front is mirrored on the back: a sign of uncompromising craftsmanship.
The Inspiration
"I was inspired by the geometric patterns found in London's East End architecture. The warehouse loft windows, the geometric patterns on the local mosques, and fractured looking lines in the labrodorite itself inspired the design. The taupe background and bright blue flashes of the gem reminds me of the neighborhood's concrete and grey skies with flashes of colorful fashion." – Alexia Connellan
The Gems
First discovered in Canada and Norway, laboradorite is a feldspar mineral that displays an iridescent optical effect known as schiller, which is also called labradorescence because it is unique to this gem. Microscopic layers diffract light into rainbow colors. Each pattern is unique. In this ring the labradorescence is contrasted with the brilliance of fine diamonds.
The Craftsmanship
The cage of brilliance that covers the labradorite was modeled using a computer, hand-finished in platinum and then carefully set with diamond pave. Size 6.
Arrange Your Private Consultation
To appreciate the beauty and quality of couture jewelry, you need to see it, touch it, try it on, and watch the gems dance in the light. Make an appointment for a private consultation to experience Alexia's collection in person. You can find a jewel that speaks to you or commission a custom creation.
How to Commission
a Bespoke Jewel
Would you enjoy a one of a kind jewel inspired by your favorite work of art, natural wonder, or personal journey? Here's how Alexia will make your jewelry dream a reality.
The Inspiration Alexia interviews you to uncover what inspires you and makes you happy. You discuss gems, colors, shapes, and the feeling you want to have when you wear your jewel.
The Gem If you don't already have a personal gem that you'd like to feature in your jewel, Alexia will search the world to find the perfect gem to realize your vision.
The Design Alexia sketches original designs for your jewel, refining the concept and execution until it suits you perfectly.
The Model The sketch then takes shape in three dimensions, either through computer modeling, traditional wax carving, or directly fabricated by hand into metal.
The Setting The final model is then precisely created in precious metal and the gems will be set into the metal by hand, one at a time. The metal is polished to perfection and your jewel is ready for you to wear.