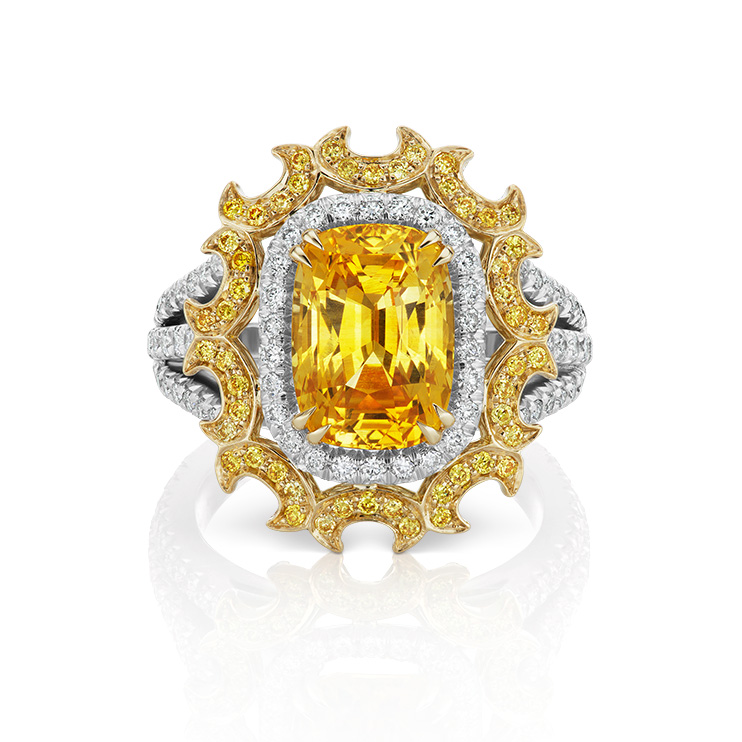 Egret Orchid Ring
A fine golden sapphire blooms with a halo of diamond petals
The Design
The dramatically curved wing shapes of this extraordinary ring are inspired by the petals of the rare white egret orchid. The palette of the flower, white with touches of yellow, is reversed in the design. A dramatic golden yellow sapphire takes center stage. A white diamond halo is crowned by the petal corona of fancy yellow diamonds. The triple ring shank is paved with ombre yellow and white diamonds for even more brilliance.
The Inspiration
"I was inspired by the egret orchid, which has its petals outstretched like the wings of a bird. Jamaica has the world's greatest variety of orchids because of its peculiar climate. In my early childhood I saw egrets and wild orchids everyday. This ring makes me think of a walk through an enchanted tropical forest…a tropical fairytale." – Alexia Connellan
The Gems
Glowing like the tropical sun, a golden yellow fancy sapphire from Ceylon brightens even the cloudiest day. The heated sapphire has a high crown and beautiful facet pattern that make it as warm as it is brilliant.
The Craftsmanship
This complex ring could only be fabricated by hand due to the complexity of the orchid halo. The sapphire and yellow diamonds are set in 18k yellow gold and the white diamonds are set in platinum. The underbezel has delicately intricate hand-fabricated spindles that are a tribute to the goldsmith who created them. The fine craftsmanship makes this ring a modern heirloom. Size 6.
Arrange Your Private Consultation
To appreciate the beauty and quality of couture jewelry, you need to see it, touch it, try it on, and watch the gems dance in the light. Make an appointment for a private consultation to experience Alexia's collection in person. You can find a jewel that speaks to you or commission a custom creation.
How to Commission
a Bespoke Jewel
Would you enjoy a one of a kind jewel inspired by your favorite work of art, natural wonder, or personal journey? Here's how Alexia will make your jewelry dream a reality.
The Inspiration Alexia interviews you to uncover what inspires you and makes you happy. You discuss gems, colors, shapes, and the feeling you want to have when you wear your jewel.
The Gem If you don't already have a personal gem that you'd like to feature in your jewel, Alexia will search the world to find the perfect gem to realize your vision.
The Design Alexia sketches original designs for your jewel, refining the concept and execution until it suits you perfectly.
The Model The sketch then takes shape in three dimensions, either through computer modeling, traditional wax carving, or directly fabricated by hand into metal.
The Setting The final model is then precisely created in precious metal and the gems will be set into the metal by hand, one at a time. The metal is polished to perfection and your jewel is ready for you to wear.