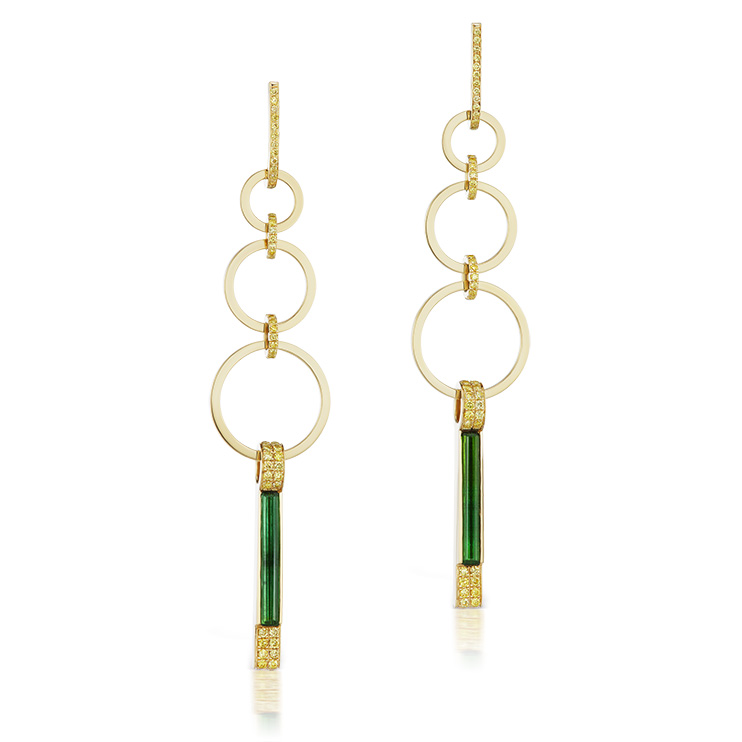 Gatsby Earrings
Art Deco inspired drops that can be worn five fabulous ways
The Design
These earrings evoke the rhythmic geometry of Art Deco, with graduated circles pivoting on sparkling diamond pave links so they move with you. They'll take you from day to night because they transform from discreet hoops to dramatic drops. They are designed to be worn five ways: as a diamond huggie, as tailored yellow circle drops, with a long diamond dangle off the circles, with a green tourmaline crystal dangle, and with either of the drops as a pendant on a chain. With their versatility, they'll work with almost everything in your wardrobe.
The Inspiration
"I've always loved New York's Art Deco architecture. These earrings are inspired by the 1927 built French Building on Fifth Avenue. The wonderful lobby, glowing with impeccable golden details, is one of my favorite hidden architectural wonders in the city. I added the green tourmaline to evoke the light at the end of Daisy's dock in the Great Gatsby: the green light of endless possibility." – Alexia Connellan
The Gems
To give these earrings a golden glow, they are pave set with fine yellow diamonds. The green drops are natural tourmaline crystals, which are ethically sourced from Nigeria. It's very difficult to find two long thin tourmaline crystals like this that are perfectly matched in color and shape.
The Craftsmanship
These earrings are completely hand made by a skilled craftsman. The dangle lifts out easily from the huggies. The exquisite craftsmanship makes these one of a kind earrings a modern heirloom.
Arrange Your Private Consultation
To appreciate the beauty and quality of couture jewelry, you need to see it, touch it, try it on, and watch the gems dance in the light. Make an appointment for a private consultation to experience Alexia's collection in person. You can find a jewel that speaks to you or commission a custom creation.
How to Commission
a Bespoke Jewel
Would you enjoy a one of a kind jewel inspired by your favorite work of art, natural wonder, or personal journey? Here's how Alexia will make your jewelry dream a reality.
The Inspiration Alexia interviews you to uncover what inspires you and makes you happy. You discuss gems, colors, shapes, and the feeling you want to have when you wear your jewel.
The Gem If you don't already have a personal gem that you'd like to feature in your jewel, Alexia will search the world to find the perfect gem to realize your vision.
The Design Alexia sketches original designs for your jewel, refining the concept and execution until it suits you perfectly.
The Model The sketch then takes shape in three dimensions, either through computer modeling, traditional wax carving, or directly fabricated by hand into metal.
The Setting The final model is then precisely created in precious metal and the gems will be set into the metal by hand, one at a time. The metal is polished to perfection and your jewel is ready for you to wear.