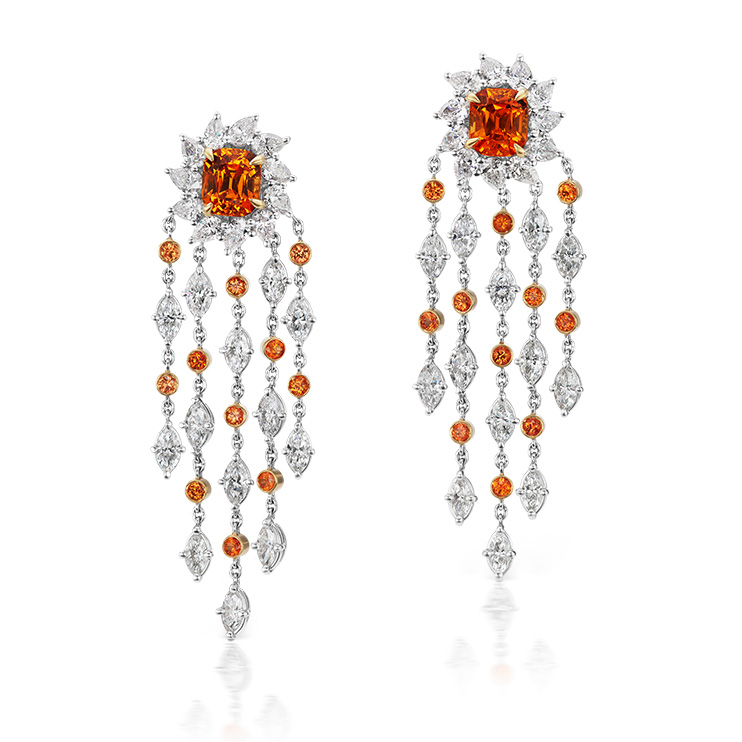 Phoenix Crown Earrings
The earrings dance like a flame with a sexy fringe of gems
The Design
These dramatic earrings play with fire: flame colored spessartite garnets and orange sapphires glow with sparks of brilliance from pear-shape and marquise-cut diamonds. The pear-shape diamond frame around the studs is angled to increase the sense of movement. The sexy dangling fringe of gems can be adjusted in length. They can be worn many ways: as studs, as short fringe, as longer fringe, and with the fringe dressing up a plain pair of diamond studs.
The Inspiration
"I was inspired by the traditional Chinese headdress known as the Fengguan, or phoenix crown, that was worn by Ming Dynasty empresses. In Chinese tradition, the phoenix is the wife of the dragon and some brides still wear the Fengguan on their wedding day. I love its sensual sway and mysterious drape over the eyes: it's sexy and powerful all at once." – Alexia Connellan
The Gems
The untreated spessartite garnets in the studs were ethically mined in Nigeria. They have an unusually intense and fiery color. The orange sapphires are heated to match the intensity of the garnets. Fine fancy-cut diamonds flash with brilliance and catch the light as they dangle.
The Craftsmanship
These earrings are completely hand-fabricated with heirloom-quality craftsmanship so they are light and comfortable to wear. The diamonds are all set in platinum and the spessartite and sapphire in 18k yellow gold. The longest dangle has a hidden row of pave diamonds on the back for extra brilliance as you move.
Arrange Your Private Consultation
To appreciate the beauty and quality of couture jewelry, you need to see it, touch it, try it on, and watch the gems dance in the light. Make an appointment for a private consultation to experience Alexia's collection in person. You can find a jewel that speaks to you or commission a custom creation.
How to Commission
a Bespoke Jewel
Would you enjoy a one of a kind jewel inspired by your favorite work of art, natural wonder, or personal journey? Here's how Alexia will make your jewelry dream a reality.
The Inspiration Alexia interviews you to uncover what inspires you and makes you happy. You discuss gems, colors, shapes, and the feeling you want to have when you wear your jewel.
The Gem If you don't already have a personal gem that you'd like to feature in your jewel, Alexia will search the world to find the perfect gem to realize your vision.
The Design Alexia sketches original designs for your jewel, refining the concept and execution until it suits you perfectly.
The Model The sketch then takes shape in three dimensions, either through computer modeling, traditional wax carving, or directly fabricated by hand into metal.
The Setting The final model is then precisely created in precious metal and the gems will be set into the metal by hand, one at a time. The metal is polished to perfection and your jewel is ready for you to wear.