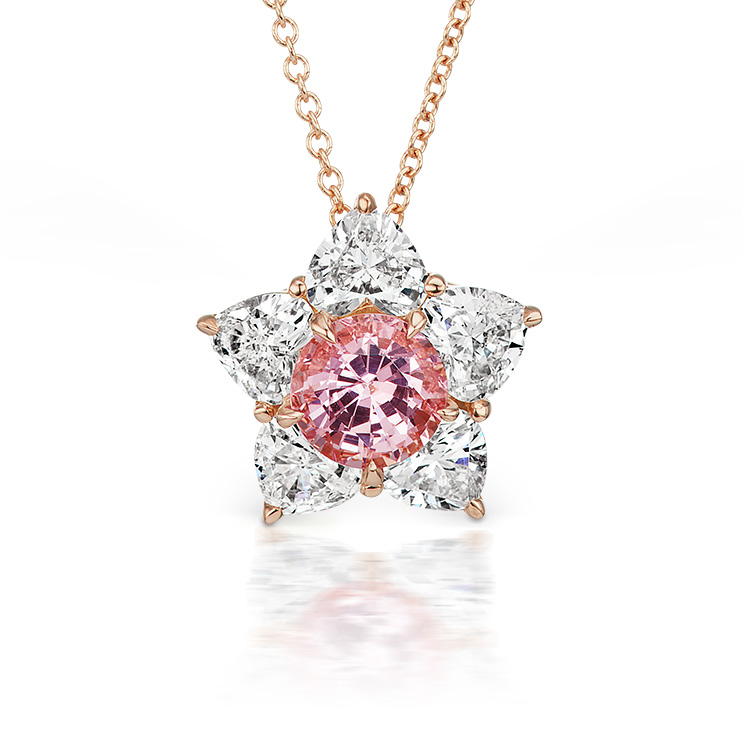 Princess of Hearts Pendant
This romantic pendant makes every day Valentine's Day
The Design
Pretty in pink: this lovely pendant is feminine and romantic. A rosy natural pink spinel adds delicate color. If you look closely, you'll see the five petals of the blossom that surrounds the spinel are five perfectly matched heart-shaped diamonds. This classic pendant is the rare piece of jewelry that's simply perfect and completely romantic.
The Inspiration
"This is the younger, shyer but just as beautiful sister to the Queen of Hearts Pendant. I love the design and how different it looks in a pastel palette. It's a more understated and demure take on the Queen of Hearts design because of its blushing pink hues." – Alexia Connellan
The Gems
Spinel is one of the hidden treasures of the gem world. Closely related to ruby and even more rare, spinel was confused with ruby for hundreds of years: many of history's famous "rubies" like the Black Prince Ruby in the British Crown Jewels are actually spinel. This untreated ethically sourced natural spinel has a lovely rosy hue and exceptional brilliance. The five perfectly matched heart-shaped diamonds that surround the spinel are also quite difficult to find in this quality.
The Craftsmanship
This pendant is completely handmade in 18k rose gold with quality craftsmanship that will last for generations. The back of the pendant is decorated with a hand-pierced heart blossom pattern. A dainty 18k rose gold chain is the perfect complement.
Arrange Your Private Consultation
To appreciate the beauty and quality of couture jewelry, you need to see it, touch it, try it on, and watch the gems dance in the light. Make an appointment for a private consultation to experience Alexia's collection in person. You can find a jewel that speaks to you or commission a custom creation.
How to Commission
a Bespoke Jewel
Would you enjoy a one of a kind jewel inspired by your favorite work of art, natural wonder, or personal journey? Here's how Alexia will make your jewelry dream a reality.
The Inspiration Alexia interviews you to uncover what inspires you and makes you happy. You discuss gems, colors, shapes, and the feeling you want to have when you wear your jewel.
The Gem If you don't already have a personal gem that you'd like to feature in your jewel, Alexia will search the world to find the perfect gem to realize your vision.
The Design Alexia sketches original designs for your jewel, refining the concept and execution until it suits you perfectly.
The Model The sketch then takes shape in three dimensions, either through computer modeling, traditional wax carving, or directly fabricated by hand into metal.
The Setting The final model is then precisely created in precious metal and the gems will be set into the metal by hand, one at a time. The metal is polished to perfection and your jewel is ready for you to wear.