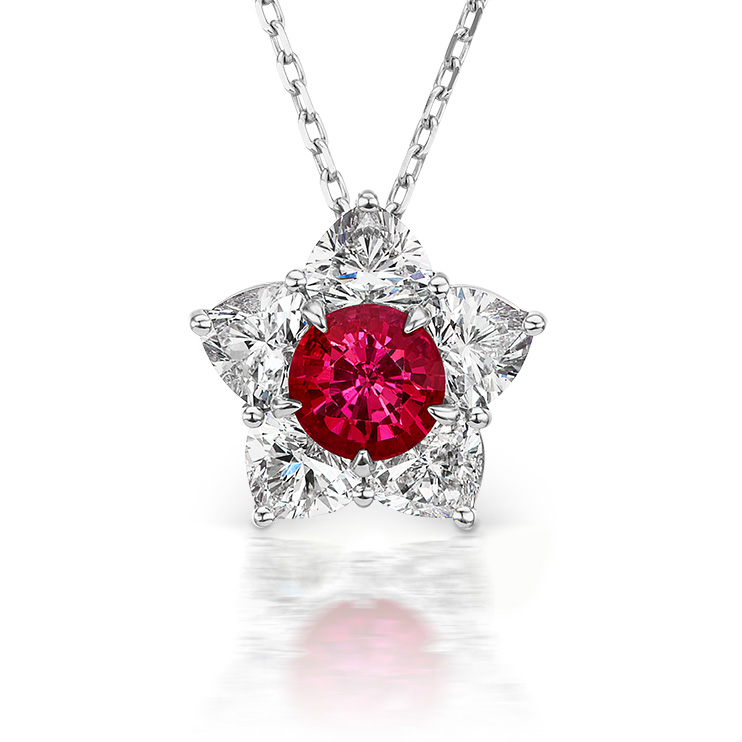 Queen of Hearts Pendant
Ruby, gem of passion, adds fire to this romantic pendant
The Design
Like a glowing red coal, this exceptionally fine Burmese ruby burns with vivid color. If you look closely, you'll see the five petals of the blossom that surrounds the ruby are five perfectly matched heart-shaped diamonds. This classic pendant with its beautiful gems is the rare piece of jewelry that's simply perfect and completely romantic.
The Inspiration
"Something about the fiery red of this ruby made me think of love and passion. I knew that this ruby had to be set with heart-shaped diamonds. The halo of hearts surrounding the ruby cannot distract from its stop light red color. It really screams at you from across the room and glows red in every light." – Alexia Connellan
The Gems
The ruby is a vintage gem from an antique jewel. Its antique cut has been sensitively updated with diamond faceting on the pavilion that gives it amazing brilliance. The crown facets, worn by time, have been left untouched to give this gem a soft vintage look. It's rare to find a ruby this fine in a round cut. The five perfectly matched heart-shaped diamonds that surround the ruby are also quite rare in this quality.
The Craftsmanship
This pendant is completely handmade in platinum with quality craftsmanship that will last for generations. The back of the pendant is decorated with a hand-pierced heart blossom pattern. A delicate and sparkly diamond cut platinum chain is the perfect complement.
Arrange Your Private Consultation
To appreciate the beauty and quality of couture jewelry, you need to see it, touch it, try it on, and watch the gems dance in the light. Make an appointment for a private consultation to experience Alexia's collection in person. You can find a jewel that speaks to you or commission a custom creation.
How to Commission
a Bespoke Jewel
Would you enjoy a one of a kind jewel inspired by your favorite work of art, natural wonder, or personal journey? Here's how Alexia will make your jewelry dream a reality.
The Inspiration Alexia interviews you to uncover what inspires you and makes you happy. You discuss gems, colors, shapes, and the feeling you want to have when you wear your jewel.
The Gem If you don't already have a personal gem that you'd like to feature in your jewel, Alexia will search the world to find the perfect gem to realize your vision.
The Design Alexia sketches original designs for your jewel, refining the concept and execution until it suits you perfectly.
The Model The sketch then takes shape in three dimensions, either through computer modeling, traditional wax carving, or directly fabricated by hand into metal.
The Setting The final model is then precisely created in precious metal and the gems will be set into the metal by hand, one at a time. The metal is polished to perfection and your jewel is ready for you to wear.