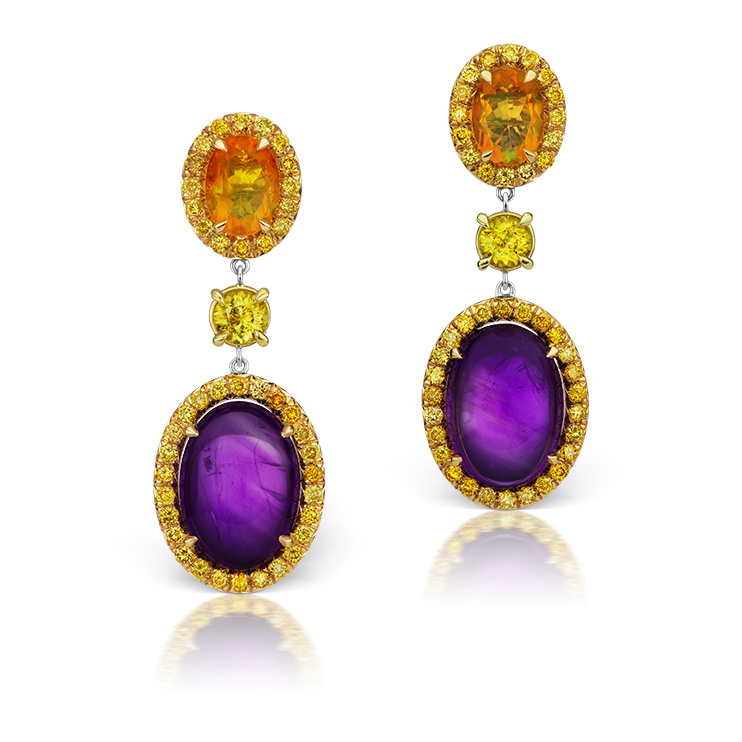 Royal Earrings
Rich gem hues take these earrings from classic to sumptuous
The Design
A timeless silhouette comes alive with vivid gems in saturated complementary colors. On top, Welo opal has a warm honeyed hue with flashes of play of color. Rare and beautiful sphene in the center has a high dispersion, flashing a spectrum of rainbow brilliance. Fancy vivid yellow diamonds frame the gems in color and brilliance. The golden hues are contrasted with a rich purple amethyst, like the robes of Roman emperors, which were royal purple trimmed in gold thread.
The Inspiration
"Sphene, one of the first gems I collected, has rainbow flashes of dispersion. I love the way they look next to the play of color in the opal. I chose to pair them with purple, the complementary color. The combination is so striking, rich and lush." – Alexia Connellan
The Gems
The Welo opal from Ethiopia has a beautiful combination of body color and play of color: opals from any other source can't match it. The natural and untreated amethyst is from Siberia, with an unusually fine and intense color that is very rare. Sphene is a rare collector's gem with a very high dispersion that makes it flash in spectral colors. It's perfect to admire in earrings but would be too soft to wear in an everyday ring.
The Craftsmanship
These earrings are hand fabricated in 18k yellow gold, platinum, and 18k green gold to complement the play of colors in this design. The fine craftsmanship makes them heirloom quality.
Arrange Your Private Consultation
To appreciate the beauty and quality of couture jewelry, you need to see it, touch it, try it on, and watch the gems dance in the light. Make an appointment for a private consultation to experience Alexia's collection in person. You can find a jewel that speaks to you or commission a custom creation.
How to Commission
a Bespoke Jewel
Would you enjoy a one of a kind jewel inspired by your favorite work of art, natural wonder, or personal journey? Here's how Alexia will make your jewelry dream a reality.
The Inspiration Alexia interviews you to uncover what inspires you and makes you happy. You discuss gems, colors, shapes, and the feeling you want to have when you wear your jewel.
The Gem If you don't already have a personal gem that you'd like to feature in your jewel, Alexia will search the world to find the perfect gem to realize your vision.
The Design Alexia sketches original designs for your jewel, refining the concept and execution until it suits you perfectly.
The Model The sketch then takes shape in three dimensions, either through computer modeling, traditional wax carving, or directly fabricated by hand into metal.
The Setting The final model is then precisely created in precious metal and the gems will be set into the metal by hand, one at a time. The metal is polished to perfection and your jewel is ready for you to wear.