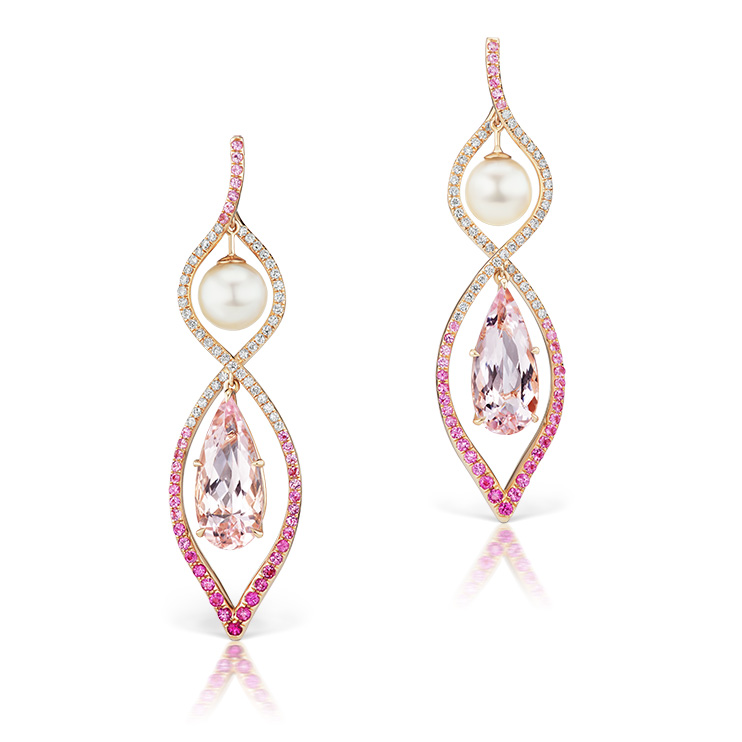 Spiral Earrings
Graceful drops in rosy gems with a dimensional helix form
The Design
The intricate spiraling form of these earrings defines space in three dimensions with elegant rose gold curves. Delicately shaded pear-shape morganites swing and sparkle, catching the light. A lustrous Akoya pearl pivots in negative space. The ombre shading of pink sapphires and diamonds emphasizes the elongated proportions of the helix. These earrings were honored with an American Gem Trade Association Spectrum Award.
The Inspiration
"I was inspired by the beautiful curves of Christoper Wren's "Dean's Staircase" in London's St. Paul's Cathedral and the double helix of DNA." – Alexia Connellan
The Gems
The pear-shaped morganites have a lovely unheated natural color. They were ethically mined in Madagascar. Morganite is a pink beryl, the gem family that also includes emerald and aquamarine. It has beautiful brilliance that catches your eye as it moves in this innovative dangling setting. Set in rose gold, lovely pink sapphires and diamonds add tone-on-tone brilliance. The Akoya saltwater pearls from Japan have a rosy luster that picks up the tones of the morganite, sapphires, and rose gold.
The Craftsmanship
To create the intricate curves in three dimensions, the framework of these earrings was modeled on a computer and then finished by hand in 18k rose gold. The earrings are mirror images of each other in order to symmetrically frame your face.
Arrange Your Private Consultation
To appreciate the beauty and quality of couture jewelry, you need to see it, touch it, try it on, and watch the gems dance in the light. Make an appointment for a private consultation to experience Alexia's collection in person. You can find a jewel that speaks to you or commission a custom creation.
How to Commission
a Bespoke Jewel
Would you enjoy a one of a kind jewel inspired by your favorite work of art, natural wonder, or personal journey? Here's how Alexia will make your jewelry dream a reality.
The Inspiration Alexia interviews you to uncover what inspires you and makes you happy. You discuss gems, colors, shapes, and the feeling you want to have when you wear your jewel.
The Gem If you don't already have a personal gem that you'd like to feature in your jewel, Alexia will search the world to find the perfect gem to realize your vision.
The Design Alexia sketches original designs for your jewel, refining the concept and execution until it suits you perfectly.
The Model The sketch then takes shape in three dimensions, either through computer modeling, traditional wax carving, or directly fabricated by hand into metal.
The Setting The final model is then precisely created in precious metal and the gems will be set into the metal by hand, one at a time. The metal is polished to perfection and your jewel is ready for you to wear.