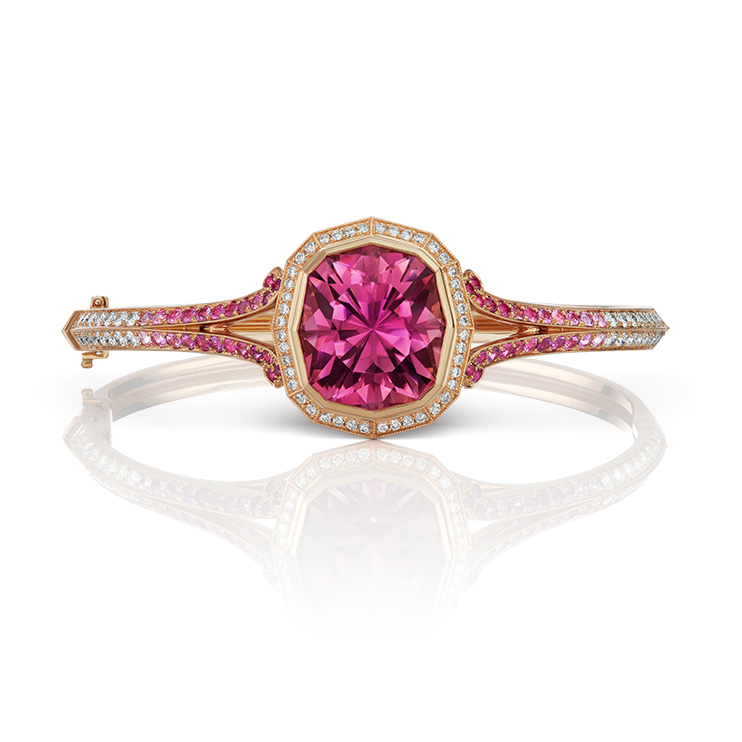 Victoria Bracelet
Tourmaline stars in a cuff that's delicate yet dramatic
The Design
A stunning unheated purple-pink tourmaline in a scalloped diamond frame has the silhouette of a cocktail ring at the scale of a bracelet. Diamond and sapphire pave in blush rose gold carry the brilliance and sparkle around your wrist. This design was honored with an American Gem Trade Association Spectrum Award.
The Inspiration
"I was inspired by Queen Victoria's 1897 Jubilee portrait where she is wearing a stack of bracelets. California was the world's most important source for pink tourmaline at the time. This whimsical design is like a giant ring: it has a bit of an Alice in Wonderland quality to it." – Alexia Connellan
The Gems
This important sixteen-carat purple-pink tourmaline was mined in California. Pave pink sapphires and diamonds set off its lovely color.
The Craftsmanship
The angled ridged silhouette of the bracelet means that the gems sparkle from every angle. It was modeled on a computer and then hand-finished in 18k rose gold to be a modern heirloom. This bracelet is constructed with a hinge so that it fits closely and comfortably on your wrist. Sized to fit up to a 7.25-inch wrist.
Arrange Your Private Consultation
To appreciate the beauty and quality of couture jewelry, you need to see it, touch it, try it on, and watch the gems dance in the light. Make an appointment for a private consultation to experience Alexia's collection in person. You can find a jewel that speaks to you or commission a custom creation.
How to Commission
a Bespoke Jewel
Would you enjoy a one of a kind jewel inspired by your favorite work of art, natural wonder, or personal journey? Here's how Alexia will make your jewelry dream a reality.
The Inspiration Alexia interviews you to uncover what inspires you and makes you happy. You discuss gems, colors, shapes, and the feeling you want to have when you wear your jewel.
The Gem If you don't already have a personal gem that you'd like to feature in your jewel, Alexia will search the world to find the perfect gem to realize your vision.
The Design Alexia sketches original designs for your jewel, refining the concept and execution until it suits you perfectly.
The Model The sketch then takes shape in three dimensions, either through computer modeling, traditional wax carving, or directly fabricated by hand into metal.
The Setting The final model is then precisely created in precious metal and the gems will be set into the metal by hand, one at a time. The metal is polished to perfection and your jewel is ready for you to wear.